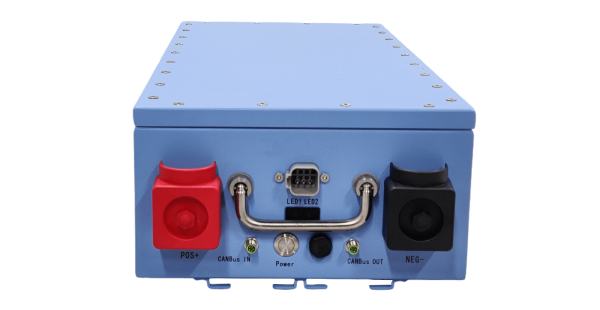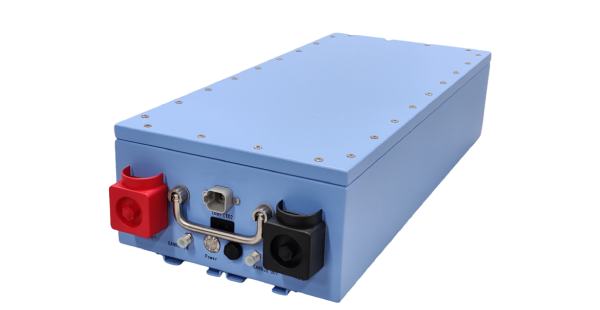 OE customers in fields such as Material Handling, Aerial Work Platform, and Floor Machines work with us to improve the performance and reliability of their equipment. Our solutions are plug and play, reducing time to market and the need to modify designs.
The PB-48-75 is an industrial-grade battery pack designed as a direct replacement for lead acid batteries used in forklift and automated-guided vehicle (AGV) applications. The lithium battery outperforms the conventional lead acid battery in size, weight, cycle life, and energy density, and power output. All that, at a lower operating cost and cost per cycle. Here is an example of how our lithium battery compares with lead acid.
| | | |
| --- | --- | --- |
| | Lead-acid AGM | Lithium battery LFP |
| Installed capacity | 100KWh | 50KWh |
| Usable capacity | 50KWh | 50KWh |
| Cycle life | 500 @ 50% DOD | 4000 @ 100% DOD |
| Unit cost per KWh | $200 | $400 |
| Cost per cycle | $0.40 | $0.10 |
| Installation cost | 4x | 1x |
| Transportation cost | Over 4x | 1x |
| Maintenance | Yes | No |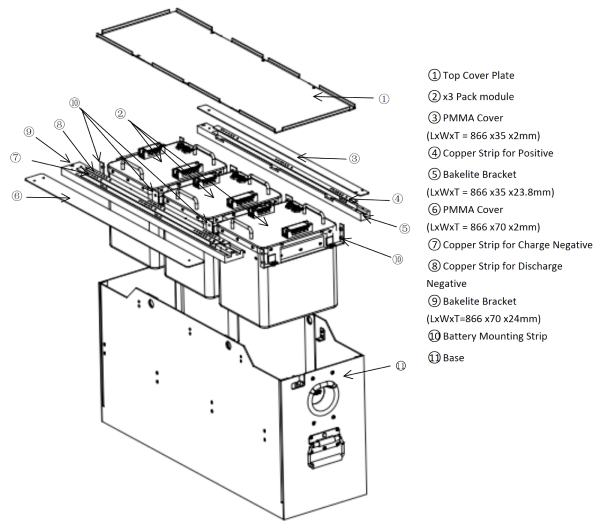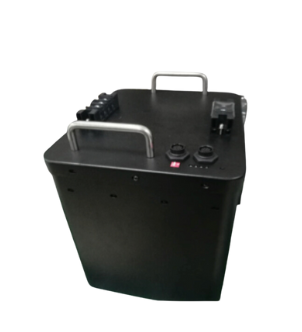 Lithium Power can design-in existing battery compartment dimensions while meeting or exceeding the application's energy demands. With the unique ability to connect batteries in parallel for both charging and discharging, our modular designs allow for scalability as well as ease in transportation and maintenance.
Specifications of PB-48-75
Description
Spec.
Cell Configuration of Pack
13S30P
Battery Configuration
3 packs in parallel
Cell Type
Li Ion 18650 cylindrical
Nominal Capacity
Pack
75Ah
Battery
225Ah
Nominal Voltage
Pack

48V
Battery
Rated Energy
Pack
3600Wh
Battery
10800Wh
Maximum Charge Voltage
Pack

54.6V
Battery
Discharge Cut-off Voltage of Pack
42V
Maximum Charging Current Note1(includes regenerative charging current)
Pack
20A
Battery
60A
Maximum Continuous Discharge Current of Pack
40A
Peak Discharge Current of Battery
480A @10Sec
Operating Temperature
Charge
0 ~ 45°C
Discharge
-20 ~ 60 °C
Operating Humidity
< 90% RH
Storage Temperature
-20 ~ 30°C
Storage Humidity
< 65% RH
Enclosure Material
SECC
Dimensions (WxDxH)
Refer to Drawing
Enclosure Color
Black
Weight
Total
< 135Kg
Pack
< 28Kg
Communication Protocol
CAN2.0A
Water/Dust Resistance
IP65
Certification
UL 2271, IEC 62133
Shipping Classification
UN38.3
Note1: If each charging current of the pack is larger than the over-current protection value, then each charging current of the pack will be limited to 20A max.
LPI-CH-54.6-60 charger (for PB-48-75) Specs
Input: 110V-240VAC
Output: 54.6 +/- 0.2V
Charge current: 60.0 +/- 0.2A
Rated output power: 3276W
Operating temperature: -10°C to 40°C
Dimensions: 320 x 160 x 180 mm